Sash Window Experts are passionate and experienced providers of specialist services to restore period sash windows in Surrey back to their former glory. We carry out sash window repairs, double glazing, draught-proofing, renovation, restoration and replacement services for period homes in Guildford, Reigate and all other areas in Surrey. Striving for complete client satisfaction with every project, we understand the importance of a first-class renovation job and take pride in repairs that fully restore the natural beauty of your sash windows.

Surrey Workshop Address:
Dean House Farm, Church Road, Newdigate, Surrey, RH5 5DL
Our Services
At Sash Window Experts, we do what it says on the tin: Our experienced craftsmen expertly restore your period sash windows! We can improve the visual appeal and functionality of your original period windows without having to resort to unsympathetic contemporary fixtures. Your sash windows will be beautifully restored back to their former glory, showing off their original design while providing you with all the modern benefits of today's window installations.
Your home's period windows may be old or seem beyond economic repair – but trust us, it's never too late to give them a new lease of life! With over 30 years of solid hands-on experience in restoring and renovating sash windows, our team of experts has the skill and the passion to go above and beyond to ensure that your sash windows are completely restored.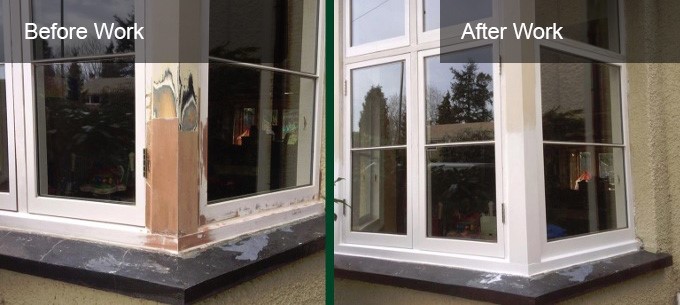 Sash Window Timber Repairs
Our accomplished team of artisan craftsmen will carry out precise timber replacements, carefully piecing in new sections of timber where the wood has worn down or cracked, using specific moulding techniques to create matching profiles. From our joinery workshop in Surrey, we ensure that every repair or restoration project undertaken is completed to your complete satisfaction.
Window Sills and Frames
For window sill decay, we will replace the existing sill with a new hardboard window sill. For added security, you can choose from a range of period centre catches and locks with various finishes and colours available to suit your windows and personal preference. When it comes to damaged glass, we offer a comprehensive range of glass replacement units, including clear float, laminated and sealed.
Sash Window Double Glazing
We keep up to date with the latest technological advancements in the double-glazing industry, providing double-glazed hard or soft wood sashes that still maintain the original window design. Our sash window double glazing service in Surrey is focused on keeping period features intact, updating your windows to modern standards while retaining their classic elegance.
Hardwood Double Glazed Sash Bay Window Project
A recent sash window double-glazing project in Surrey involved the installation of new hardwood double-glazed sash bay windows at a home in Reigate. Take a look below and visit our gallery to see a selection of our handiwork.
Draught proofing
As well as repairs and renovations, our dedicated craftsmen are able to undertake specialist draught proofing for sash windows in Surrey. We recently completed draught proofing for a client in Reigate as part of a redecorating and renovation project of their period windows. Take a look at our gallery below and find out more about this project in our blog post.
Contact us today
At Sash Window Experts, we provide a wealth of specialist services designed to repair, renovate and restore your period timber sash windows back to their former glory. From our workshop in Newdigate, we work across all areas of Surrey including Reigate. For more information about any of our services or to book a free survey, please get in touch with our friendly team today.
You can also contact us by submitting your enquiry via the form on our contact page and we will be in touch as soon as possible. For first-class window restoration, repairs, renovation and sash window double glazing in Surrey, Sash Window Experts should be your first port of call.