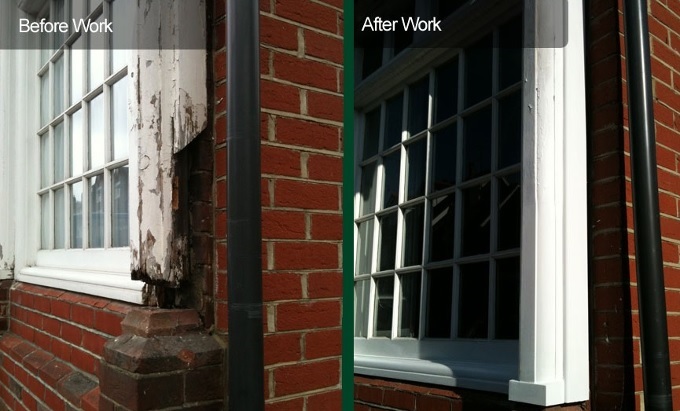 Sash Window Experts have extensive experience carrying out specialist window repairs, double glazing, draught proofing and renovation services for clients with period properties in Sussex and beyond. With a team of skilled craftsmen at your disposal who are passionate about preserving the UK's architectural heritage, we offer a bespoke service to address your specific requirements when it comes to the restoration of your home's original timber sash windows.

Our Services
We understand the importance of restoring beautiful sash windows to their former glory without having to resort to renovation techniques that are not sympathetic to the building. At Sash Window Experts, we make it our business to preserve and maintain the original period features that make your home unique. Let us restore and renovate your sash windows so they remain in good shape for many years to come.
We offer a range of restoration and repair services including glass replacement units for damaged glass such as clear float, laminated, sealed, obscure, crown, patterned and more. We also deal with window sill decay and resolve these issues by removing an existing lower box and replacing it with a new reinforced hardboard sill so that the job is done quickly and efficiently. In compliance with many local insurance companies we can also add a range of traditional centre catches and locks designed to fit in with your traditional sash windows aesthetic design, keeping the look uniform and your home secure.
Sash Window Repairs
Our team of local artisans take great pride in restoring the visual appeal and functionality of sash windows back to their former glory, whether in our joinery workshop or on site. From slide mechanisms to draughtproofing, double glazing and home security, we can help renovate sash windows for all kinds of period properties, enabling you to enjoy your home's unique character for many years to come.
Using specialist renovation methods for manufacturing and replicating existing moulding details, our team of experts can carry out precise replacement work from our bespoke joinery workshop. Although your sash windows may seem old or beyond repair, our specialist craftsmen use professional moulding techniques to create a matching profile for your existing sash windows. That way, we can faithfully replace cracked, chipped or rotten timber pieces while keeping intact specific design features on the original windows.
Window sills and frames
Window sill decay is a common problem that can occur as a result of paint deterioration. Rather than replacing the entire box frame, Sash Window Experts can carefully remove the existing lower box assembly and replace it with a new hardwood sill section, complete with pulleys and outer linings bonded in with epoxy resin.
In doing so, we use the same original joints to maintain the strength of the box frame. Carefully piecing in new timber sections with mouldings that match the original profile allows us to prolong the life cycle of your period windows of any era including Georgian sash windows.
Sash window double glazing
Our focus is on improving old, worn or defective sash windows without resorting to alternative contemporary fixtures. We do this by combining a series of classical and modern techniques to keep your sash windows in beautiful running condition.
By keeping up to date with the latest advancements in double glazing technology, we can provide restoration services that improve the quality of your sash windows so that you can reap the benefits of modern window installations. Double glazed hard or soft wood sashes in combination with a specialist moulding facility designed to maintain the original design keeps all your essential period features intact. The result is the best of both worlds: beautiful period windows that have been brought up to modern standards.
Existing Frame Renovation in Sussex
One of our recent projects for a home in West Sussex saw us renovating new sills in an existing frame with new bottom outer lining, pully linings, new bottom sash and mid rail. Take a look at our gallery below, or read our blog here for more pictures and information.
Reinstatement of Traditional Box Sash Windows in Horsham
We recently reinstated traditional box sash windows for a home in Horsham to replace the 15-year-old modern uPVC windows. The project included draught proofing, painting and double glazing. See below for images and take a look at our blog post to read more.
Contact us today
At Sash Window Experts in Sussex, we provide a wide range of specialist services designed to restore, renovate and repair your sash windows and bring them back to their former glory. With extensive experience of properties in Brighton, East Sussex and beyond, we are available for all enquiries.
For more information about our services, call us on 01403 602701 or fill in the form on our contact page and we will be in touch with you as soon as possible. For first class services regarding the restoration, reparation and renovation of your sash windows, contact Sash Window Experts today.