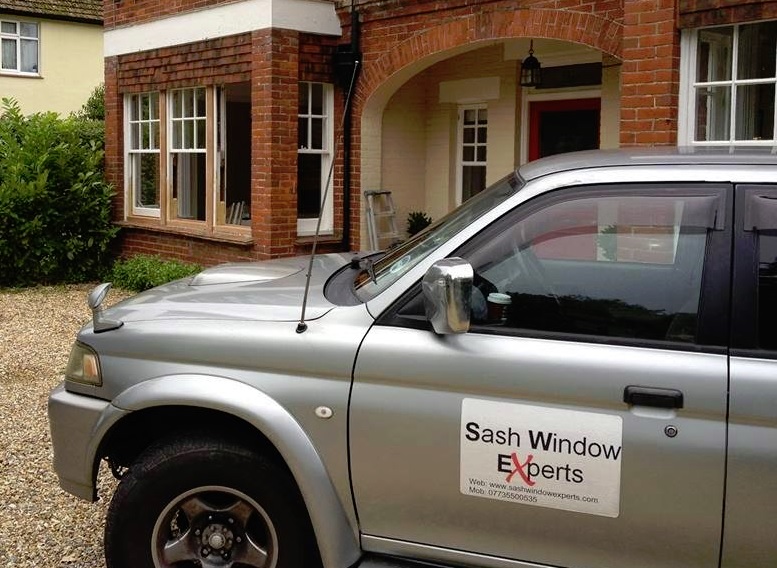 At Sash Window Experts, our dedicated team of craftsman have made it their mission to preserve beautiful period windows wherever possible. With over 30 years' experience of carrying out sash window repairs, refurbishments and renovations in properties all over the South East, we are confident we can help you too.
From our joinery workshop or on site, we can renovate original sash windows regardless of architecture and age of property. See below for details on what our work will entail.
Whether your windows require repairing slide mechanisms, fitting draught proofing or even installing double glazing, contact Sash Window Experts to help maintain your home's classic features for many years to come.
"A sash window that has been lovingly restored and brought back to life with the modern benefit of far greater thermal efficiency, ease of movement and no rattles."

Timber Decay in Sills and Frames
Are your window sills showing signs of decay because of paint deterioration? Rather than replacing the entire box frame, we can carefully remove the lower box assembly and replace this section with new hardwood, bonding the outlinings with epoxy resin and using the original timber joints to maintain the strength of the box frame.
A two-part repair using our unique epoxy resin is the best way to strengthen the tenon joints that the sashes consist of. After cutting out localised areas of timber decay and rot on sashes, sills and the box frame, we first apply a stabilising solution before the epoxy resin. Once fully cured, we sand down and apply a protective coat of primer.
By piecing in new sections of timber in this way, and carefully matching the original profile of the mouldings, your period sash windows can be restored to their former glory. Whether your property boasts Victorian, Edwardian or Georgian sash windows, the lifespan of your home's period features will be substantially prolonged.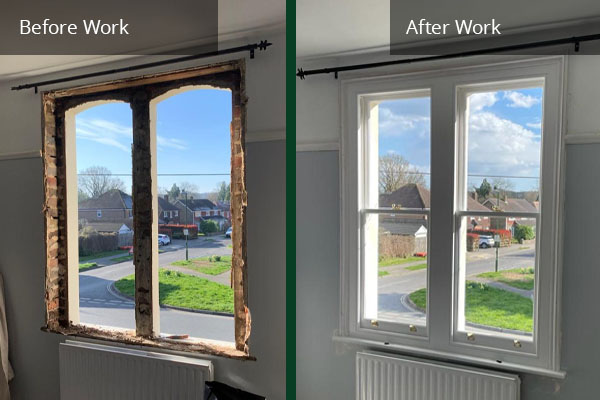 Draught Proofing and Rattling Windows
Are your sash windows draughty and rattly, letting the cold air in and the warm air out? Sash Window Experts offer a comprehensive draught proofing service to deal with badly maintained windows to restore them to perfect working order.
The restoration process involves installing an unobtrusive draught proofing system that won't impact on the aesthetic look of your period sash windows but will instead let you enjoy major advantages such as a considerable reduction in draught and no more rattling, less outside noise and easy glide windows.
We use quality draught proofing pile to fill the gap between the frame and the window in order to create a barrier against dust and cold air coming in and hot air going out. Using soft brush, low drag draught proofing pile allows the sashes to travel smoothly to open and close the window without damaging the paintwork. The result? Lower heating bills and a cosier home.
Sash Cords, Pulleys and Weights
A complete sash window renovation will focus a great deal of attention on the heart of the operating mechanism: sash cords, pulleys and weights. We start by removing the sashes from the box frame, getting rid of any build-up of paint from the running surfaces, then priming any bare wood as needed.
Once the sashes and box frame are prepared, we check the counter balance weights and pulleys, making adjustments where necessary. At the same time, we discard the old cords and beads and re-cord the windows with our modern, improved sash cords.
New Furniture and Hardware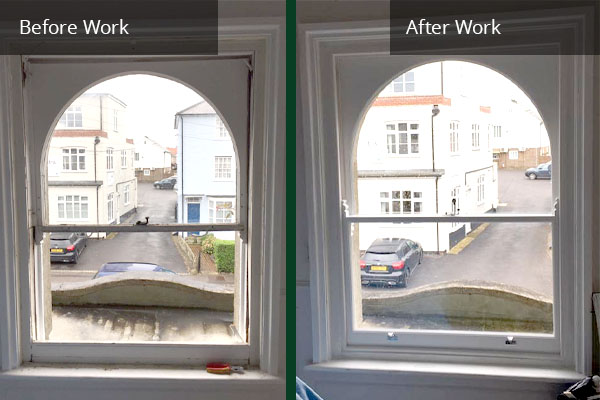 As part of our sash window renovation service, we re-align and, wherever possible, reuse your windows' original catches to maintain the integrity of your architectural features. If window catches or locks are damaged or broken, we can obtain replacements on request.
We have a range of traditional and modern window fittings in stock, including locks and catches in a selection of styles, materials and finishes. Of course, other hardware products for sash windows and doors, and casement windows and doors, can be ordered if necessary.
Double Glazing for Period Windows
At Sash Window Experts, we realise that double glazing is now an essential requirement for modern homes. Compared to single glazed period windows, you can expect to enjoy considerable advantages in terms of lower heating bills and greater energy efficiency, better sound insulation and home security, as well as easier maintenance.
Our skilled artisans use the latest advances in double glazing technology to help upgrade and restore original sash windows and casement windows in your home. We can
Supply and fit new double glazed sashed into the original box frame
Re-instate double glazed sashes into the original box frame in cases where these were previously changed to modern UPVC or aluminium frames
Install a replacement box frame, complete with double glazed sash windows, in cases where these were previously removed.
We offer double glazed hard or soft wood sashes that incorporate warm edge technology that is normally used in modern, sealed double glazing units. That way, all the beautiful period features including original moulding designs and horn detail, can be retained.
Window Security
For your total peace of mind, we work with a large selection of replacement glass and security options to make your home as safe as possible. Cracks in window panes and broken glass are a common issue, which is why we offer a wide range of glass and putty repairs, using clear format, laminated, toughened, patterned, obscure and sealed glass units as required.
What's more, your building and contents insurance provider will insist on key operated locks to be fitted to any period sash windows; original centre catches are deemed to be not secure enough for modern requirements. Sash Window Experts offer a variety of choices in several finishes, both for modern locks and traditional centre catches, that will comply with current insurance regulations.
For more information about our sash window renovation services to help bring the classic period features of your home back to life and eliminate pesky issues, contact our passionate team of highly skilled craftsmen on 0800 1970129. Alternatively, for expert advice and a free no obligation window survey, you can email us your enquiry here.