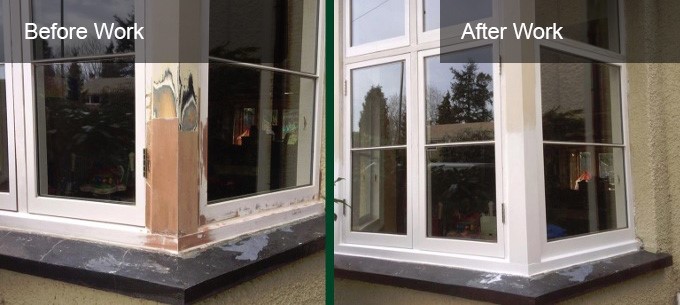 Sash Window Experts, the premier provider of specialist sash window repair and renovation services, operates in Tunbridge Wells, Kent and throughout the South East region. Thanks to our extensive expertise and a proficient team of craftsmen, we are the go-to experts to restore these coveted original period features including the slide mechanism, you can keep these beautifully classic window designs without having to replace them with contemporary window alternatives. Whether your sash windows require simple servicing or wholesale rescuing, we can help with:

Please also check out our dedicated website for sash windows in Tunbridge Wells.

Sash Window Repair in Tunbridge Wells
Should it be required, Our Tunbridge Wells team offer a detailed replacement and repair service for sash windows that can prolong the life of any type of window or door. Our skilled craftsmen use specialist moulding techniques to piece in new sections of timber, creating a matching profile for your existing sash window. We also deal with the common issue of cill decay by removing the existing lower box and replacing it with a new hardwood cill, skipping the lengthy process of replacing an entire box frame so that the work is done quickly and efficiently.
Sash Windows Tunbridge Wells
Regardless of the issue affecting your timber sash windows, we have the expertise to repair and restore their functionality and aesthetic appeal. Our local craftsmen offer a range of services, including: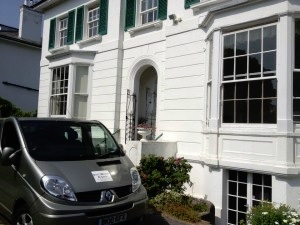 Slide mechanisms, sash cord pulleys and weights
Timber decay on windowsills and frames
Glass and putty repairs
Window catches and locks
Original moulding design
Draught proofing and double glazing
Our joinery workshop serves as a hub for carrying out sash window repair works, and we offer on-site services too. At Sash Window Experts, we prioritise delivering comprehensive and professional attention to each client seeking sash window repair and restoration services in Tunbridge Wells.
Sash Window Renovation
With years of dedication and experience in renovating period properties in Tunbridge Wells and the surrounding towns and villages, we are passionate about minimising the need for modern window replacements wherever possible. Whether your property boasts Georgian, Victorian, or Edwardian sash windows, we can improve worn-out frames and fittings to restore your windows to their former glory.
Our expert team employs meticulous sash window renovation methods, significantly extending the lifespan of your home's period windows. By combining traditional and contemporary techniques, such as the use of specialist moulding facilities for original designs and installing double-glazed window panes, our craftsmen provide the best of both worlds. The result is professionally renovated and restored sash windows that adhere to modern standards and are perfectly suited for today's and tomorrow's homes.
Draught Proofing for Sash Windows in Tunbridge Wells
A prevalent issue with older sash windows is their potential lack of snugness, which allows draughts and dust to enter your home. This is one of the main reasons why homeowners may contemplate replacing them with modern alternatives. However, with the assistance of Sash Window Experts, such drastic measures are usually entirely unnecessary.
Our team has honed the art of discreetly fitting draught-proofing to period windows, ensuring their visual charm remains intact while delivering the following benefits: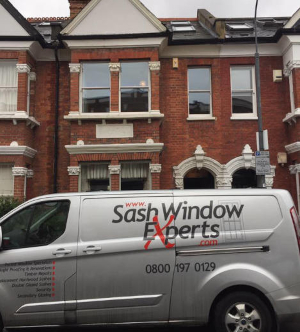 Smooth operation when opening and closing windows
Elimination of window-rattling
Significant reduction in draughts
Considerably less outside noise
Whether you require draught proofing as a standalone service or as part of a comprehensive window renovation project, contact us today for a complimentary quote and site survey.
Double Glazing for Sash Windows
If you seek to retain your home's character while enjoying the advantages of modern window installations, we may have the ideal solution for you. At Sash Window Experts, we employ cutting-edge double-glazing technology to provide you with a window solution that offers:
Reduced heating bills
Enhanced energy efficiency
Improved sound insulation
Easy maintenance
Enhanced home security
Why not let our experienced team restore and upgrade your timber sash windows in Tunbridge Wells with one of the following options:
Installing new double-glazed windows into the original box sash frame
Reinstating double-glazed sashes into the original box frames
Removing previous uPVC or aluminium replacements
Installing a new box frame and double-glazed sash windows with traditional weights and pulleys
Sash Window Replacement
Occasionally, a sash window reaches a state where repair is no longer feasible. Fortunately, this is a rare occurrence. In such cases, Sash Window Experts can manufacture and reproduce existing moulding details, enabling us to execute an accurate replacement installation for your period window.
As double-glazing technology continually evolves, we install new double-glazed sashes made from durable hard or softwood. These sashes incorporate the Warm Edge Technology found in modern sealed units, while faithfully replicating the original mouldings and horn details of your period sash windows.
Contact Us
If you are keen to learn more about our sash window services in Tunbridge Wells, from sash window restoration to double glazing, call us today on 0800 197 0129 or fill out the form on our Contact page. We look forward to hearing from you.
FAQs