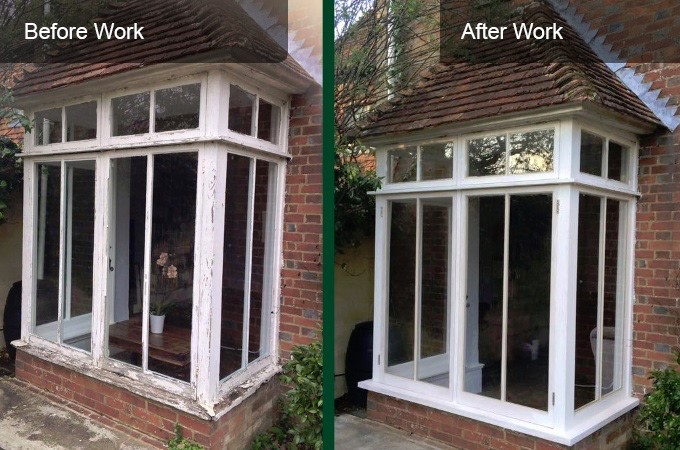 Sash Window Experts are the leading provider of specialist repairs and sash window restorations in Guildford, Surrey and across the South East. With decades of experience and a team of skilled craftsmen at our disposal, we are passionate about preserving and maintaining these highly desirable authentic features, using state-of-the-art techniques to ensure your sash windows are in the best possible condition for the long term. Whether they require a simple service or you are looking for expert assistance to rescue sash windows that look beyond repair, we can help with:
Please also visit our dedicated website for sash windows in Guildford.

Sash Window Repairs
Whatever the problem may be with your timber sash windows, we can repair and restore their functionality and visual appeal. From slide mechanism and draught proofing to double glazing and more, our local craftsmen can help you maintain your home's authentic features for years to come.
We have a joinery workshop which is conveniently located on the Surrey/Sussex border, and we also come to your property to carry out sash window repair works including
Slide mechanisms, sash cord pulleys and weights
Timber decay on window sills and frames
Glass and putty repairs
Window catches and locks
Original moulding design
Draught proofing and double glazing
At Sash Window Experts, we make sure that each of our clients receives comprehensive, professional attention for any sash window repair and restoration service we provide in Guildford.
Sash Window Renovation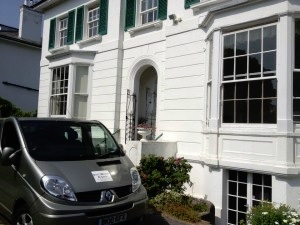 With decades of dedication and experience in renovating period properties in Guildford and the surrounding towns and villages, we do everything we possibly can to ensure that modern window replacement won't be necessary. Whether your property has Georgian sash windows or dates to Victorian or Edwardian times, we can improve old or worn-out frames and fittings to restore your windows back to their former glory.
Our expert team uses meticulous sash window renovation methods to significantly prolong the lifespan of your home's period windows. Combining classic and modern techniques, such as specialist moulding facilities for original designs and installing double-glazed window panes, our craftsmen deliver the best of both worlds: professionally renovated and restored sash windows that meet modern standards and are fit for the homes of today and tomorrow.
Draught Proofing for Sash Windows
One of the main problems with old sash windows is that they may no longer fit snuggly, and let in draughts and dust as a result. This is where many homeowners may be tempted to consider modern replacement windows. However, with Sash Window Experts by your side, there's really no need!
Our team has mastered the art of fitting unobtrusive draught proofing to period windows without compromising their visual appeal while delivering the following benefits:
Smooth window opening/closing operation
No more window rattling
Significant draught reduction
Much less outside noise
Whether you require draught proofing as a standalone service or as part of a general window renovation project, get in touch today for a free quote and to arrange a survey.
Double Glazing for Sash Windows
If you are looking to keep your home's character appeal while enjoying the advantages of modern window installations, we may have the perfect solution. At Sash Window Experts, we use the latest double-glazing technology to bring you window solution that offers:
Lower heating bills
Higher energy efficiency
Greater sound insulation
Easy maintenance
Better home security
Why not let our experienced team restore and upgrade your timber sash windows in Guildford by
Fitting new double-glazed windows into the original box sash frame
Reinstating double glazed sashes into the original box frames, removing previous modern uPVC or aluminium replacements
Installing a new box frame and double-glazed sash windows with traditional weights and pulleys
Sash Window Replacement
Sometimes a sash window really is too far gone to be repaired – Luckily, this doesn't happen very often. If we encounter a window that is beyond the point of rescue, Sash Window Experts can manufacture and replicate existing moulding details and carry out a precise replacement installation for your period window.
With double-glazing technology advancing all the time, we fit new double-glazed hard or soft wood sashes that use the Warm Edge Technology of modern sealed units while replicating the original mouldings and horn details of your period sash windows.
Contact Us
For more information regarding the comprehensive services we provide for sash window restoration in Guildford and beyond, please get in touch with Sash Window Experts. Call us on 0800 197 0129 and speak to our friendly team to find out how we can help bring your sash windows back to life.
FAQs