At Sash Window Experts, our mission has always been to help preserve our country's beautiful period windows and doors. For over 30 years, our small team of accomplished craftsmen has been working tirelessly to achieve these aims, carrying out countless sash window repairs and renovations in properties across Sussex and the South East.
Whether on-site or in our joinery workshop, our team of local artisans take great pride in restoring the beautiful period features and functions of sash windows back to their former glory. From slide mechanisms and draught proofing to accommodating advances in double-glazing technology, we can help renovate sash windows for all kinds of period properties, so that you can enjoy your home's classic features for many more years to come.

Window sills and frames
One of the most common problems with sash windows is window sill decay as a result of paint deterioration. Rather than replacing the entire box frame with a new one, Sash Window Experts can carefully remove the existing lower box assembly and replace it with a new hardwood sill section, complete with pulley and out linings bonded in with epoxy resin. We use the same joints that were originally used to maintain the strength of the box frame.
By carefully piecing in new timber sections with detailed mouldings to match the original profile, we can extend the lifespan of period windows and all types of sash windows including Georgian Sash Windows.
Completing a two-part repair using our unique epoxy resin helps to strengthen the tenon joints that make up the sashes. We remove localised areas of rot to the sashes, sills and box frame, then apply a stabilising solution. The epoxy resin is then applied and left to cure before being sanded to match the original profile and protected with primer. The new finish will be as good as the original timber. It won't crack open over time, since the epoxy resin moves with the natural expansion and contraction of the timber.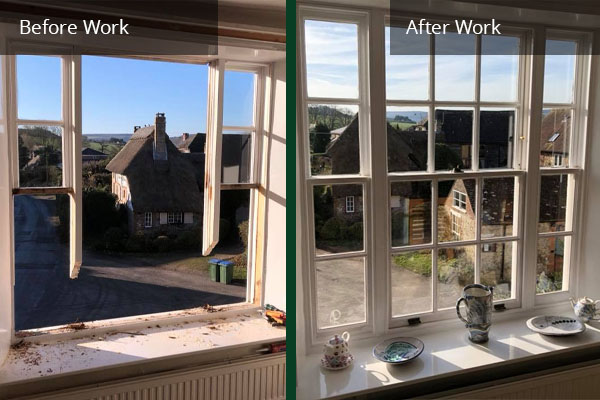 Sash cords, pulleys and weights
When we carry out a complete sash window restoration, we remove the sashes from the box frame, including any paint build-up from the running surfaces and prime any bare timber as necessary. Once the sashes and box frame are prepared, the existing cords and beads are discarded, and the window is re-corded with our modern improved sash cords.
We also check the counterbalance weights and pulleys, making adjustments as required.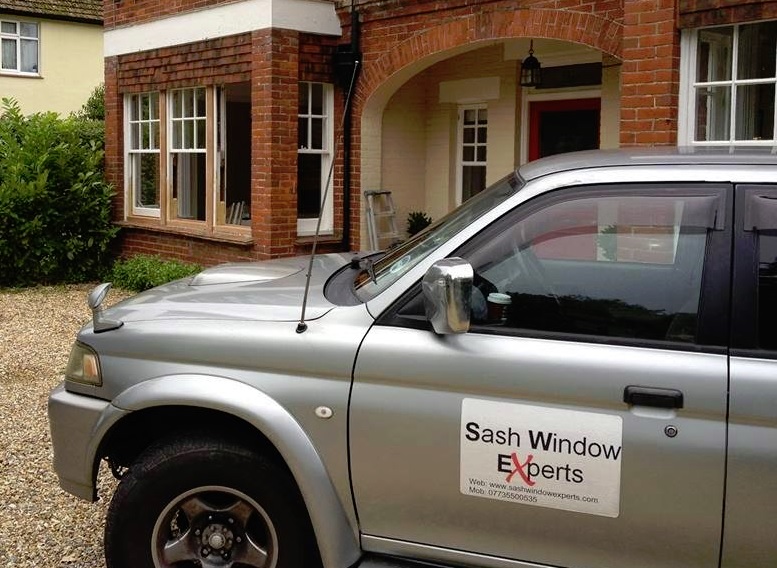 Window and door furniture and hardware
As part of our sash window repair work, we re-align and reuse existing original catches wherever we can. If you would prefer to have new ones, replacements are available on request.
At Sash Window Experts, we stock a range of traditional and modern window fittings in a range of finishes including window catches and locks. We can also source a variety of other hardware for sash windows, casement windows and doors.
Draught proofing
Draughty windows that rattle and let the cold air in (and warm air out!) can be a major problem with original sash windows that have been poorly maintained. At Sash Window Experts, we offer a comprehensive draught proofing service that can be carried out as a standalone service or as part of an overall sash window refurbishment project.
Fitting an unobtrusive draught-proofing system won't detract from the beauty of your period sash window, and it will have the benefits of reducing draughts, outside noise and rattling window sounds while ensuring the sashes glide up and down smoothly as they should.
Double glazing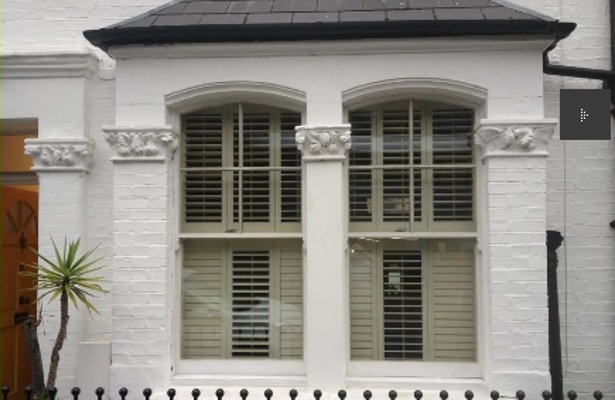 Double glazing has become an essential feature of modern homes. At Sash Window Experts, we recognise the enormous benefits double-glazed windows can bring. Our skilled craftsmen work with the latest advances in double-glazing technology and can deliver effective double-glazing services for repairing or renovating your sash windows.
We offer beautiful double-glazed hard or soft wood sashes with warm edge technology while retaining all the essential period features including the original moulding designs.
Window security
Sash Window Experts work with a broad selection of replacement glass and security options for your complete peace of mind. While cracked window panes or broken glass can be a common issue, we can solve the problem by carrying out a wide range of expert glass and putty repairs using clear float, laminated, toughened, crown, obscure, patterned and sealed glass units.
Today's buildings and contents insurance companies tend to insist on key-operated locks to be fitted to sash windows; the original centre catch alone is no longer enough. At Sash Window Experts, you can choose from a variety of options for locks and traditional centre catches in a choice of finishes that will be expertly fitted to your sash windows.
Decoration
Whether your sash window repairs are carried out in our joinery workshop or at your property, meticulous care is taken every step of the way. Once rotten timber and failed paintwork have been removed and made good, we will leave the repaired and refurbished period windows prepared and ready for decorating, having primed all bare timber where necessary.
For details about how Sash Window Experts can help bring the classic period features of your sash windows back to life, contact us today for a free quote. Call Mark direct on his mobile at 07735 500535, contact the Sash Window Experts office at 01403 602701 or call the Freephone number at 0800 1970129. Alternatively, you can send us a short enquiry here and we will contact you as soon as we can.
FAQs
What can you do to improve the insulation of my sash windows?
We have several ways that we can enhance the insulation of your windows. Our draught-proofing and repair service will substantially improve the performance of existing timber sash windows. Secondary glazing will boost energy efficiency while retaining the character of your home, which is particularly suitable for listed buildings. If window replacements are needed, we can manufacture new ones, including fully insulated double-glazed sash windows.
Do you need to put up scaffolding to carry out the work?
Without seeing the relevant windows first, it is difficult to give an accurate answer to this question. Once we have completed our site visit and initial survey, we will know what is involved and whether scaffolding may be necessary. Fortunately, most sash window repairs and refurbishments can be done successfully from the inside and won't need scaffolding. If we find that scaffolding is needed, we can help arrange this on your behalf.
Do I need planning consent for sash window repairs or renovations?
Window repairs and alterations normally fall within permitted development rights. That said, if you live in a conservation area, your home is a listed building or a leasehold property, there will be restrictions on what you are allowed to do. It's always best to check with your local planning authority to ensure you follow the correct procedure. Our friendly team is happy to help you with the necessary paperwork and assist you throughout the process.