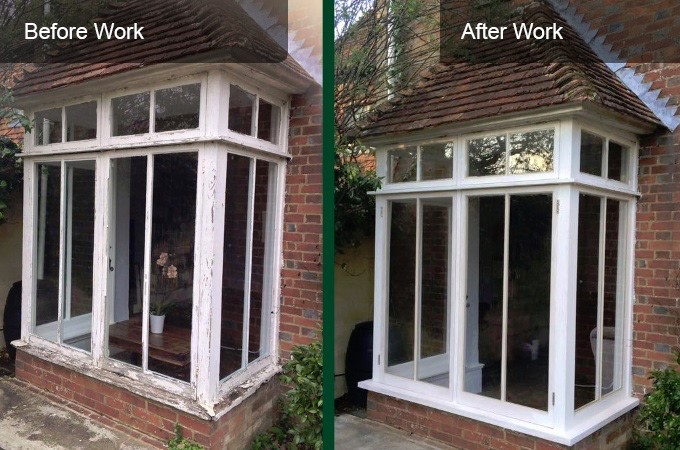 Sash Window Experts have been providing specialist repairs and restoration, draught-proofing and renovation for period properties in Brighton, Hove and across Sussex for many years. Our team of skilled, experienced craftsmen are passionate about preserving these iconic features of our architectural heritage. Whether your windows need a simple service, or you are looking for help to rescue Brighton sash windows that look beyond repair, we can help with:

Sash Window Repairs
Whatever problem you have with your period sash window, we can bring its beautiful features and functions back to their former glory. From slide mechanisms and draught proofing to accommodating advances in double-glazing technology, why not let our local artisans help you maintain your home's classic features for the long term?
Whether in our joinery workshop or on-site at your property, we can deal with a wide range of repair and restoration needs including
Timber decay on window sills and frames
Slide mechanisms, sash cord pulleys and weights
Window catches and locks
Glass and putty repairs
Original moulding design
Draught proofing and double glazing
We make sure that each client benefits from a comprehensive professional repair and restoration service in Brighton and across the South East. Contact us today to find out more.
Sash Window Renovation
Sash Window Experts have many years of experience in the renovation of period properties in Brighton, Hove and beyond. We will do everything we possibly can to ensure that the installation of alternative contemporary windows in your home is not required.
Whether your property features Victorian, Edwardian or Georgian sash windows, we can restore your old windows back to their former glory by improving the old or worn-out frames and fittings. Our craftsmen combine classic and modern techniques, such as specialist moulding facilities to maintain the original design and install double-glazed window panes.
Thanks to our meticulous sash window renovation methods, we are able to substantially prolong the lifespan of your home's period features. That way, Sash Window Experts deliver the best of both worlds: professionally restored and renovated sash windows that have been improved to a very high modern standard, making them fit for the homes of today and tomorrow.
Double Glazing for Sash Windows
Are you looking for a window solution that lets you enjoy all the benefits of modern window installations while maintaining your home's classic period features of sash windows? At Sash Window Experts, we are fully up to date with the latest double-glazing technology to deliver:
Better energy efficiency
Lower heating bills
Better sound insulation
Greater home security
Easier maintenance
We can restore and upgrade your period sash windows in Brighton by
Supplying and fitting new double-glazed windows into the original period box frame
Reinstating double-glazed sashes into the original box frame where windows were previously replaced with modern aluminium or UPVC versions
Installing a new box frame and double-glazed sash windows with traditional pulleys and weights
Draught Proofing for Sash Windows
Poorly fitting old sash windows that rattle and let in draughts and dust are among the most popular reasons why householders may be tempted to consider modern replacement windows. But with the right skills, it is perfectly possible to draught-proof sash windows very effectively.
At Sash Window Experts in Brighton, we have perfected the art of fitting an unobtrusive draught-proofing system that won't compromise the visual appeal of your period windows while delivering the following benefits:
Significant draught reduction
No more window rattling
Reduced outside noise
Smooth window operation
We can carry out draught proofing as a standalone service or as part of a more comprehensive window renovation project. Take a look at one of our recent draught-proofing projects here and get in touch for a free quote.
Sash Window Replacement
Occasionally, though thankfully very rarely, it is the case that an original sash window really is beyond the point of repair. If we encounter a window that cannot be saved, Sash Window Experts can manufacture and replicate existing moulding details and carry out precise replacement work for your period window.
And with double-glazing technology advancing all the time, we take the opportunity to install new double-glazed hard or soft wood sashes that use the Warm Edge Technology of modern sealed units while at the same time replicating the original moulding and horn detail of your original windows.
Contact Us
Sash Window Experts offer a comprehensive range of services for sash window restoration in Brighton & Hove. If you have a period property with original sash windows that have seen better days, contact us today at 0800 197 0129 and speak to our friendly team to find out how we can help bring them back to life.
FAQs
My original sash windows are noisy and draughty and I am not sure what to do about them. Can you help?
Absolutely we can. Get in touch to arrange for us to visit your home and inspect your problem windows. It's an excellent opportunity to get professional advice and guidance on how best to maintain your sash windows. Our window surveys are free and without obligation.
Can you take out my modern UPVC windows and put timber sash windows back in?
Yes, we regularly carry out work for customers who wish to reinstate sash windows into their period property. We can advise on the type and design of windows that would be most suitable for your property and carry out a full installation. Improving the appearance of your home in this way can help to increase its value.
Do I need planning permission for sash window restorations?
If your property is a listed building or is located in a conservation area, it is highly likely that you will need planning permission before you can make any significant alterations or repairs. It's always best to check with your local planning authority rather than make an assumption.