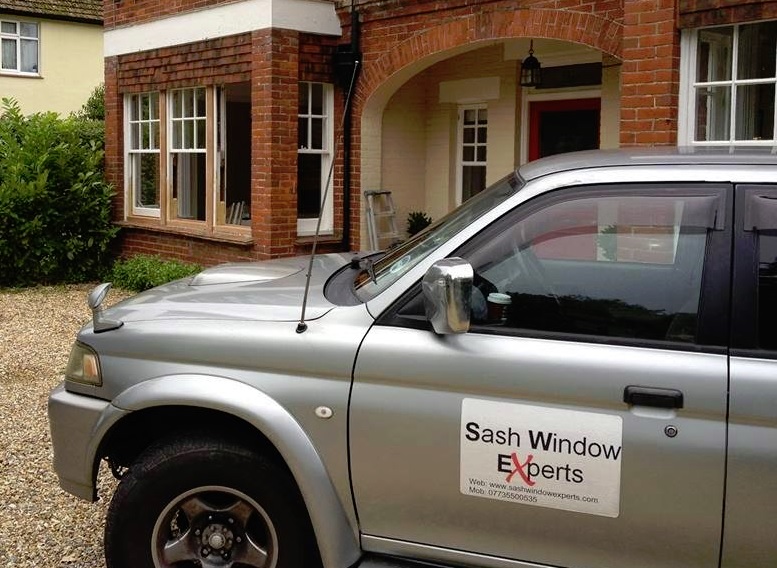 At Sash Window Experts, our dedicated team of specialist carpenters have a deep understanding of the intricate mechanism of sash windows. With over 30 years' professional experience, it is our mission to restore the beautiful classic features and functions of period sash windows in homes across the South East.
How do sash windows work?
At the heart of the traditional timber sash window sits a vertically sliding mechanism. It's how you operate the window to slide it open or closed. The double-hung windows are counterbalanced by two pairs of weights that are hidden out of view on each side of the window. The weights are hung on cords that run over a pulley wheel at the top of the frame.
Sash windows are designed so that the system of sash cords, pulley and weights work together in harmony. So if one of the windows in your home refuses to glide open or shut with complete ease, chances are that this functionality has become defective in some way.
At Sash Windows, we can take a professional look at your windows and carry out a wide range of sash window repairs and renovation services to restore the full function of your windows, prolonging their lifespan and making them an effective solution to keep the heat inside, and draughts and noise out with double glazing.
Do all sash windows have pulleys?
The traditional sash window design we all know and love is based on a system of pulleys and weights. However, not all sash windows operate in this way. The specific design and mechanism can vary depending on the age and style of the window, as well as any modifications or replacements that may have been made over time.
Older sash windows may have different opening mechanisms such as spring balances or spiral balances, instead of pulleys and weights. These mechanisms serve the same purpose of counterbalancing the sashes but operate differently. Modern sash windows typically incorporate different technologies such as spring-loaded or pre-tensioned balances, which eliminate the need for pulleys altogether.
Whichever type of sash window design you have in your home, Sash Window Experts have a wealth of expertise to repair and restore your windows to their full functionality.
Why do sash window cords break?
Do you have a sash window that's difficult to open, or doesn't open at all? The culprit may be snapped or worn sash cords. At Sash Window Experts, we will remove the sashes from the box frame and replace any sash cords that are no longer fit for purpose.
Sash window cords can break for a number of reasons, the most common ones being:
Wear and tear – Over time, the cords in sash windows can weaken and deteriorate due to regular use and exposure to the elements. The repeated opening and closing of the windows, as well as the weight of the sashes, can put strain on the cords, causing them to fray or snap.
Incorrect installation – If the cords were not installed properly in the first place, they may be more prone to breaking. Improper alignment or incorrect tension can lead to increased stress on the cords, leading to premature failure.
Age and degradation – Sash window cords may become more brittle and prone to breakages as they age. Exposure to sunlight, temperature changes and moisture can degrade the cords over time, making them more susceptible to snapping.
Excessive weight or force – If too much force is applied to the window sashes, such as slamming them shut or forcefully yanking them open, it can put undue stress on the cords and cause them to break. Similarly, if the sashes are too heavy for the cords to support them, it can lead to cord failure.
Lack of maintenance – Neglecting regular maintenance and care, such as lubricating the pulleys and checking the condition of the cords, can contribute to cord breakage. If the cords become frayed or damaged and are not promptly replaced, they are more likely to break.
It's important to look after your sash cords, and indeed the entire sash window, to ensure the longest lifespan. Contact Mark at Sash Window Experts for trusted, professional advice and attention for all your sash window needs.
How long does a sash cord last?
The lifespan of sash cords can vary depending on several factors such as the quality of the cords, the frequency of use, and the level of maintenance. Under normal circumstances, with proper care and maintenance, you can expect your sash cords to last for 10-20 years or even longer.
If you notice any signs of wearing or damage to the sash cords, it's advisable to act promptly and to have them replaced as soon as possible to avoid further complications down the line.
If one of the four sash cords is defective, chances are that the others also need attention. That's why we always check all four sash cords in a box sash window and usually have them all re-corded with our modern, improved sash cords. Double-glazed sash windows require an extra strong replacement cord on account of the additional weight.
How do you replace a sash cord on a sash window?
Replacing the sash cords on a sash window can be a tricky job that's best left to the professionals. Here at Sash Window Experts, our tried and tested process for re-cording sash windows broadly uses the following steps:
Removing the window sash from the frame, which also involves removing any stops, parting beads and trim.
Accessing the pulley and old cord on either side of the frame, by removing covers or access panels as needed.
Cutting and removing the old cord and removing it from the pulley, detaching weights or other attachments as necessary.
Measuring the length of the old cord and cutting a new one of the same length, ensuring it is sturdy enough for the weight of the window sash.
Attaching the new cord by threading one end through the pulley and tying securely, then repeating for the other side.
Reinstalling the sash into the frame, ensuring the new cords are properly aligned with the sash and pulleys.
Testing the operation by opening and closing the window, making final adjustments as needed.
Once the sash is operating smoothly, replacing stops, parting beads or trim that were removed earlier.
Before rehanging the sash, we clean and reattach the sash furniture and lubricate the pulley axles. The traditional pulley and weight system is a finely calibrated balance, so we always check the right weight required and correct the counterbalance weights and pulleys as necessary. Underweight sashes are a common occurrence since, interestingly, sashes lose weight gradually over the decades. Overweight sashes tend to be the result of previous installer errors.
Complete sash window renovation
For complete sash window renovation, the sashes will be removed from the box frame along with any paint build-up from the running surfaces. Bare timber will be primed as necessary. After preparation, we will discard the existing cords and beads and fit modern replacements. Draught proofing can be replaced or added at the same time.
With proper repair and refurbishment, your period sash windows will glide smoothly and effortlessly between open and closed positions and continue to give you many years of enjoyment.
For more information about Sash Window Experts and how we can help maintain and preserve your home's original sash windows, please call us for friendly advice at 01483 299587 or send us a short message. We look forward to hearing from you.