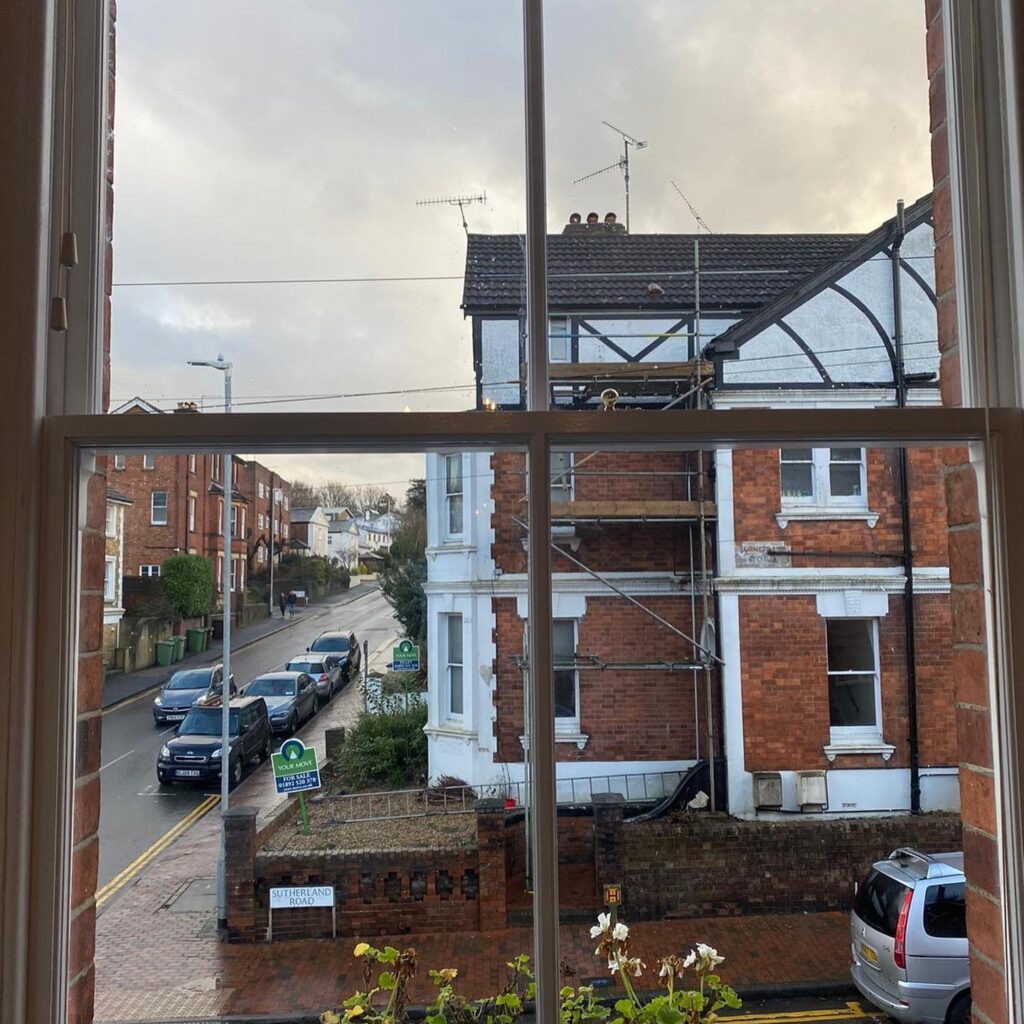 Your home's traditional sash windows may look beautiful but do they leave your home cold and draughty? It's a common complaint that we hear all the time. Unfortunately, it is also one of the main reasons why many homeowners give up on sash windows altogether, choosing modern UPVC replacements instead. But wait – there's no need!
At Sash Window Experts, we can repair and renovate timber sash windows back to their perfect condition, including draught-proofing and double glazing where necessary. That way, you get the best of both worlds: retention of the charm and character of your original sash windows but with the high performance of modern UPVC double-glazed sash windows.
So, what's involved in double-glazing your sash windows? We first remove the sash beading and the top and bottom sashes, so that we can assess the condition of the window sill, the box frame and external pointing. If these are in a good enough state of repair, it means that you don't need to replace the entire window, only the sashes.
We take precise measurements to enable us to create replica sashes, matching the sash horns (where applicable) and inner moulds to the originals. Your new double-glazed units will be made up of two panes of glass with an inert gas in between to dramatically reduce heat transfer via the windows. The new units will then be fitted in accordance with all current building regulations. We install a concealed draught-proof system at the same time, further improving the energy efficiency of your property.
Once the new window is in place, we prime all exposed woodwork and caulk the beading, leaving the window ready for painting. Finally, a centre catch, uplifters, D rings and window locks are fitted, and you will be provided with a fully operational demonstration and advice on how to look after your new double-glazed sash windows.
Double-glazed sash windows in a Conservation Area
Windows are a key element of the visual appeal of a home, and nowhere is this more apparent than in period buildings in Conservation Areas where unique and distinctive architectural features are protected by law. Timber sash windows are an important part of our British heritage and, as such, it is right that they should be preserved wherever possible.
Many homeowners believe that double-glazed sash windows cannot be fitted in Conservation Area homes or in a listed building, but this is not strictly true. At Sash Window Experts, we have many years of experience in ensuring that all the windows we produce and fit are sympathetic to the building and the planning requirements of the area. Exact replicas of the originals almost always receive planning approval from local planning authorities, even with double glazing. Where necessary, we can help with the necessary paperwork to help you gain planning consent for your new windows.
Benefits of double-glazed sash windows
If you are not sure whether to upgrade your sash windows to double-glazed units, let's have a quick recap of the obvious advantages of doing so.
Preserving your home's period good looks
By double glazing your sash windows, you will not only preserve the visual appeal of your period property, but you will also maximise its value when you come to sell. Our process ensures that the key architectural features – architrave, mouldings and other original period features – are retained.
Making your home more energy efficient
The double glazing process complies with the requirement of the vast majority of Conservation Areas; it also complies with Building Regulations around energy efficiency and heat loss. Not only will you feel warmer in your home, but you should also see a noticeable reduction in heating bills too.
Reducing dirt and noise ingress
Once installed, your double-glazed sash windows will operate smoothly and quietly without rattling in the wind. What's more, by fitting our draught exclusion system, the level of dust and dirt ingress into the property is reduced, as is the level of noise pollution.
Thanks to the advances of modern technology, there is no need to compromise between period charm and modern home comforts. If you wish to discuss your property with our expert team to see whether double-glazed sash windows can offer you the solution you're looking for, please get in touch and book your free, no-obligation window survey today.