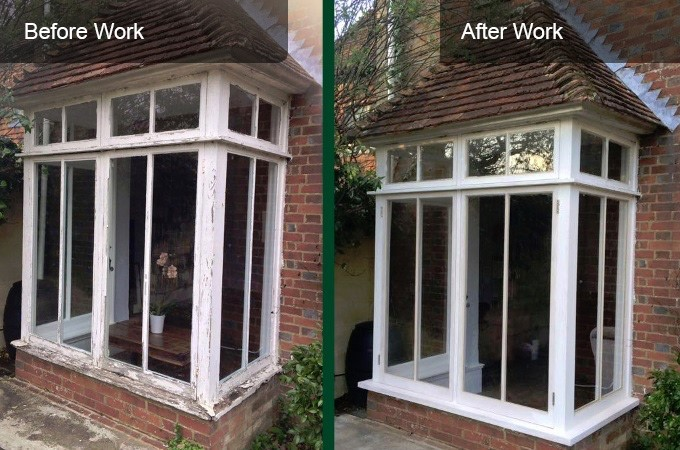 Timber sash windows form an important building element of many properties. Our Edwardian, Victorian and Georgian homes are particularly known for their beautiful original features, and sash windows are a key part of the period aesthetic. That said, wooden windows require regular maintenance and upkeep to remain in top condition. Sadly, many of the sash windows in existence today are not in a great state of repair. Given their age and poor condition, is it worth restoring them? Or would you be better off spending the money on getting modern window replacements?
At Sash Window Experts, our answer would always be an emphatic YES to restoration and NO to replacement. Did you know that about three quarters of all the UK's original box sash windows have already been lost, either because old buildings were demolished or original timber windows were replaced with more modern materials? With a finite supply of period housing, shouldn't we do everything we can to preserve what we have while we can?
Can we fix your sash windows? Yes, we can!
As a team of dedicated craftsmen with a passion for preserving Britain's architectural heritage, we think it is not only preferable but also perfectly possible, in the vast majority of cases, to restore old timber windows and bring them back to their former glory. If you're not sure whether your sash windows can be saved, we would be very happy to take a look and give you our honest opinion on whether or not they are past the point of no return.
At Sash Window Experts, we have many years' experience and a wealth of repair and restoration expertise dealing with all kinds of common window problems including:
Windows that won't open or close properly
Window frames that rattle and let in draughts
Broken glass panes
Deteriorating paintwork
Signs of damp, wood rot and timber decay
Energy efficiency problems
What are the advantages of sash window repair and refurbishment?
If you're not happy with the look or performance of your existing sash windows, swapping them out for modern UPVC or aluminium versions can be a convenient solution. However, before you act in haste (and repent at leisure!), consider the following benefits of investing in the repair and renovation of these original features that make your house so special.
Whichever way you look at it, installing modern windows into a period property tends to really grate on the eye. There's a saying that 'windows are the eyes of the house', and the importance of the right windows shouldn't be underestimated. Even with the most 'sympathetic' reproduction styles available it's easy to ruin the period look. Once the original windows have gone, they've gone forever. Restoring existing sash windows, on the other hand, protects the character of the building, preserves its architectural harmony and authenticity and restores its external visual appeal.
Maximising property value
You'll be especially glad you invested in the kerb appeal of your home when it comes to selling the property. Sympathetically refurbished period properties with key original features that are not only intact but have been well looked after are in high demand. Discerning buyers looking for a historical 'gem' will be more than happy to pay a premium for such a property. Poorly maintained period buildings, on the other hand, tend to fare less well since potential buyers are easily put off by the prospect and likely expense of carrying out repairs and upgrades.
Modern window replacements may seem like a good purchase that requires next to no maintenance and offers good thermal efficiency, however the lifespan of a UPVC or aluminium window is only around 20 years. This is significantly shorter than a well-maintained timber sash window. Many original sash windows in period buildings are still in great condition after 100-150 years. With expert care, they can be revived and restored time and again. Modern timber windows have a lifespan of around 60 years. Plastic and aluminium windows can't be repaired anywhere near as much; they simply degrade with age.
Technology for today and tomorrow
It's an easy assumption to make that future proofing windows must mean using modern materials such as UPVC or aluminium. However, one of the most important benefits about refurbishing timber sash windows is the ability to bring them up to today's standards. Wood is a naturally insulating material. With modern draught proofing techniques and high performance double glazing technology expertly installed by our artisan team, we can make sure that your period windows achieve low U-values that are energy efficient and perfectly suitable for today and tomorrow.
Get in touch with Sash Window Experts
If you would like more information about how we can restore and revive your original sash windows, so they look as good as new, function as they should and with maximum efficiency, please contact us for professional advice and arrange a free, no-obligation window survey. You can reach us on 01483 299587 or email us your enquiry here.